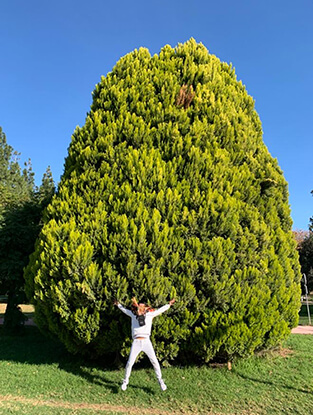 If Resolutions Have You Stressed Out, Then Read On…
I don't know how you feel about it, but for the first time ever I've been consciously staying away from Instagram and articles that talk about how to make changes or resolutions in 2020, what the color trends are for 2020 and all the other "musts" that come along with starting a New Year. I get it, the calendar tells us it's a New Year so it makes sense to start trying "new things" but along with that comes a certain pressure which I've noticed I feel when I read certain Instagram posts and articles. The pressure to think positively, to double your business (please, when you figure out a sure fire way to do that let me know), to start exercising… and the list goes on and on.
What if, like me, Winter is NOT your best Season in terms of outlook on life and productivity. What if you actually need to leave New York City once a month to get to the warm weather and sunshine for your own mental sanity. And what if Winter has you wanting to come straight home after work to make dinner, grab a beer and sit in front of the TV the rest of the night? I give you and myself permission for all of the above and more! LOL. And by the way, all of this, scientifically speaking as far as I can deduce- is OK. All of Nature hibernates in Winter and last I checked humans are part of Nature. Before HVAC and all our modern conveniences we used to too so the desire to just chillllllllll in Winter runs deep inside all of us. And while these motivating New Years articles logically make sense in terms of timing, in this hyper focused wellness and spirituality world we live in and in the words of my Spanish cousin, sometimes simply, ES TU MUCH.
What's been working for me this first week of January has been tuning out of Instagram, Facebook and any online articles that tell me what I need or should be doing in 2020. It feels overwhelming, a little bit like been there and done that and mostly, it just feels like NOISE.
Instead and for the first time in my life, I'm choosing quiet. Continuing with my twice daily meditation, exercising, slowing down, listening to my body and soul (last weekend my wife and I did NOTHING on Sunday except cook a nice dinner (imagine that!)) and lastly, stepping into the slow, introspective rhythm of Winter and observing. Observing everything– the world as I walk to the train, my internal dialogue and thoughts and finally, about life in general with bigger questions like- What the fuck are we doing here and what does it all mean? This has kept me quite busy! 🙂
So if you too are feeling overwhelmed, don't feel like you have to partake or join in. Shut it down and perhaps the best thing you can do for yourself is to slow down and listen to your own internal compass. She is always on point and is always going to know what you need to be doing next more than anyone else out there and that is an AWESOME and AUTHENTIC way to start 2020. Let's get it.
Gala Magriñá Design works with Clients that understand the importance of creating a beautiful space and want to work with a no-nonsense design team that is able to clearly chart the best way forward. What separates or approach from other designers is our extensive knowledge of how people live and how best to create a customized space that nurtures that. We aim to merge cool and beautiful interiors with a holistic, mindful and intuitive approach to design that results in powerful, healthy spaces that elevate and transform people's lives. For more information please visit www.galamagrinadesign.com.