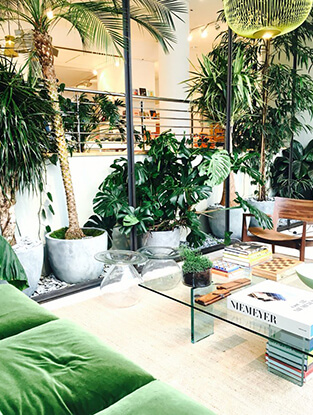 How Is Holistic Interior Design Different Than Traditional Interior Design?
I define traditional Interior Design as the marrying of beauty and function in order to create beautiful and functional spaces. Holistic Interior Design does this, but also goes deeper, beyond the physical world of furniture and decor. As a Holistic Interior Designer we look at things like the energy of the space, Client life goals and issues, sustainability and the use of non-toxic materials, maximizing natural air and light, reducing electronic pollution and lastly- reconnecting with nature (to name a few!)
And why nature? Because 100's of years ago, we lived in nature. Our lives reflected nature's natural rhythms and cycles. And now that the majority of the world's population lives in cities which are cut off from nature, it's really important that we find ways to bring nature inside. Visual queues of nature and even sounds of nature have been known to reduce stress levels and blood pressure and improve mood and concentration.
Why Is Holistic Interior Design Important?
Quite simply because our homes, communities and environment affect our daily motivations, behaviors and lifestyle and these factors determine 80-90% of our health outcomes. This exact quote from the Global Wellness Institute is what inspired me to get certified in Holistic Interior Design, Well and Feng Shui. Upon reading this it became so clear to me that there is so much more going on in our spaces that we can't see but that is there and needs to be addressed.
Why Holistic Interior Design = Wellness
We spend so much time thinking about food and fitness but no one is paying attention to the way our spaces affect us. And with people spending more time indoors due to COVID and health being a major concern, it's important that our spaces not only feel right, but are also supporting us and are as healthy as possible.
Well designed office spaces along with non-toxic materials, balanced light and air, access to an outdoor space, etc. have been known to boost employee productivity by 12%. And with talent and retaining talent being one of the major costs for a business, it's important that companies begin investing in getting their spaces right.
The majority of us spend 80-90% of our time indoors with a lot of this time at home. Our homes represent a basic need, which in turn offer a sense of safety and security. Without this basic need being met, we cannot feel and be our best. Making sure our homes feel balanced, in flow are healthy and are designed to support our dreams sets us up to succeed.
The Beyond Spaces Consult
If you're feeling stuck, anxious or having problems sleeping and feeling less than enamored with your space, check out our 2 hour in person or virtual Holistic Interior Design consult here. After the consult and implementing the Rx we provide you can expect to feel a sense of renewed energy and inspiration, that things are flowing again, a sense of peace and calm along with more awareness and insight into any issues you may be having in your life. For additional information or any questions email us at info@galamagrinadesign.com.
And for our top Holistic Interior Design tips click here.
Gala Magriñá Design works with Clients that understand the importance of creating a beautiful space and want to work with a no-nonsense design team that is able to clearly chart the best way forward. What separates our approach from other designers is our extensive knowledge of how people live and how best to create customized spaces that nurture that. We aim to merge cool and beautiful interiors with a holistic, mindful and intuitive approach to design that results in powerful, healthy spaces that elevate and transform people's lives. For more information please visit www.galamagrinadesign.com.