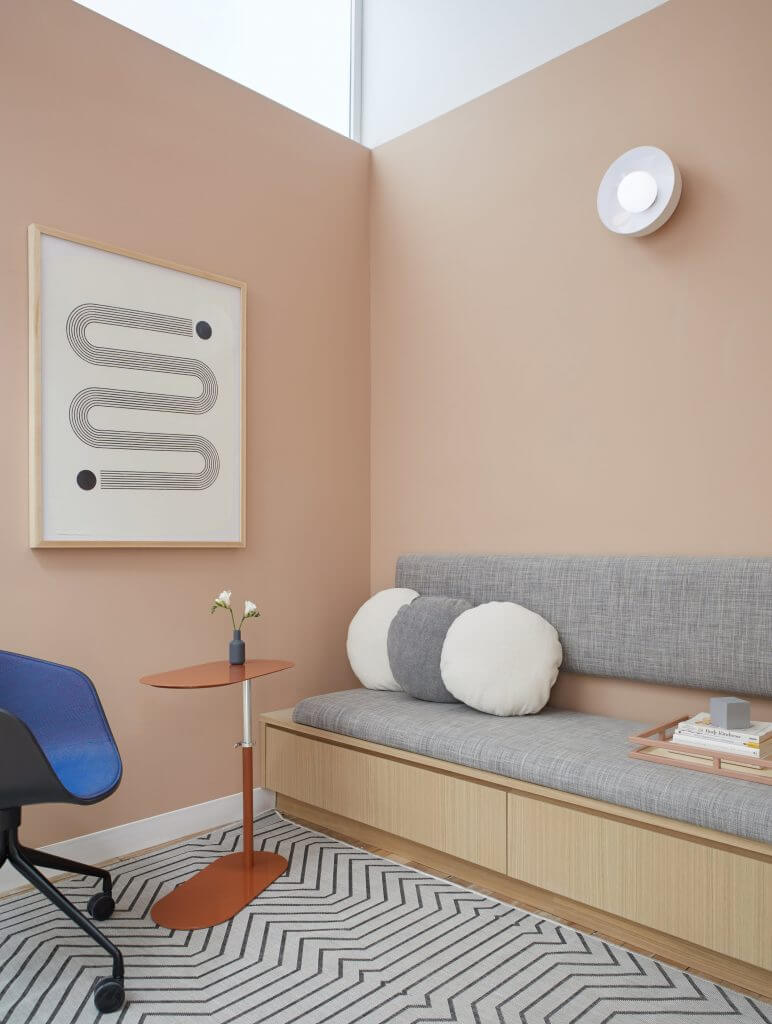 A NEW WAY OF DESIGNING BUSINESS SPACES
This morning I had the privilege of going to my first doctor's appointment at Parsley Health – a holistic medicine practice. The design of the space and entire experience was anything but traditional – it was smart, conscious and intentional (hats off to Alda Ly Architecture!). And that of course, got me thinking… could this be the future of good business design?
It doesn't necessarily cost more to create a well-designed space for a business. It just requires two things- one, a business leader that is aware enough to understand how much our spaces impact us and decides to invest in good design. And two, for the interior designer, it means designing with intention, or as I like to call it conscious design (because holistic interior design is accurate- but also, a mouthful to pronounce).
In Parsley's case, not only is the design intentional and consciously breaks away from traditional doctor's offices (thank God!), but so is the patient – doctor experience. Parsley gets it ALL right. And the design of the space is one of the why's behind its success.
THE FUTURE OF BUSINESS SPACES
Conscious design like the one I experienced at Parsley Health requires:
The ability to think out of the box and break away from tradition (let's stop being boring, lazy and safe)
Having a deeper understanding of the physical world and knowing that there is more than what we can see, hear, touch, smell and taste. And from there having an understanding of how shapes, colors, objects and how the energy and flow of a space affect its inhabitants.
Using design to positively impact human interactions and experience within a business.
All of these things do not require more money to create. They just require more awareness and frankly- more balls to draw outside the lines of what conventional society tells us things should look like.
There are tons of studies that back up the theory that how our spaces are designed and the objects we choose to put inside them- matter. There's one here. And one here. And one here. (to cite a few, this last one being one of my favorite's conducted at Milan Design Week). So why hasn't this caught on yet? Or are we in the midst of it catching on?
As a conscious designer (aka holistic interior designer), I certainly hope we are at a turning point. Personally, and like many other interior designers out there, I can physically and emotionally feel when a space is off or isn't quite right. So for me, it's clear as day.
CONSCIOUS DESIGN FOR ALL
The thing is, we can't stop at fancy doctor's offices that only middle and upper class people can afford. This idea of designing better has to be for every single space we design. From Penn Station to a subway station to the post office- no human life is more valuable than another's and our spaces need to reflect this. Currently- they do not.
All you need to do is go to your local post office and see the working conditions of their employees to realize this. A sea of beige, broken furniture and fluorescent lights, made only worse with COVID. Now we have clear shower curtains taped up to the teller counter with packing tape. Is it no surprise that a lot of the postal workers that work behind the counter seem unhappy to be at work?
Imagine if the post office looked something like Parsley Health. How would employees feel? How would customers feel? Would productivity increase? I think so… A great article in Forbes on how good office design impacts productivity- here.
MORE AWARENESS = GOOD DESIGN
When leaders in any position, whether it be business or government, are more conscious and aware human beings, they will make better decisions- and this means better design decisions too. Hats off to Robin Berzin, owner of Parsley and here's to hoping that more leaders follow in your footsteps.
Are you a business leader wanting to know more about conscious design? Check out this article where we compare traditional interior design with holistic interior design.